DIFFERENT FAMILIES, SAME LOVE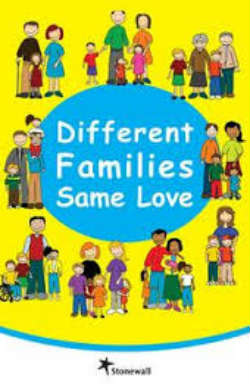 Link to private fostering and an e-learning module click HERE
At Stonelow Junior School, our children come from many different backgrounds and families. In school, we display posters and images celebrating difference and diversity. We do not assume all children come from the same family background. We use a variety of resources including picture books to explore the themes of difference.
Some picture books include:
- Who are you, Stripy Horse? by Karen Wall & Jim Helmore
- Princess Smartypants by Babette Cole
- Mister Seahorse by Eric Carle
- Tyrannosaurus Drip by Julia Donaldson
- The other Ark by Lynley Dodd
- Cock-a-moo-moo by Alison Bartlett
- Jack and Jim by Kitty Crowther
If you would like to find out more please contact Mrs Hardcastle who will be pleased to share some of the books we read and the information we have.
We try to show how we promote diversity n our learning environment.
Mrs Hardcastle is a school representative on the Derbyshire Stonewall working group.